This one is a family favorite! Layers of vanilla custard and ripe bananas in a brown butter graham cracker crust. Often requested on birthdays and holidays.
You can make graham cracker crumbs by pulsing graham crackers in a food processor until finely ground or placing in a ziplock bag and crushing with a rolling pin. You can also substitute the whole milk or heavy cream with evaporated milk.
Makes 1- 9" pie
Crust:
2 cups graham crackers crumbs
⅓ cup granulated sugar
¼ tsp. kosher salt
¼ cup very mashed banana
4 tbsp. unsalted butter
Custard:
1 ½ cups whole milk
1 ½ cups heavy cream
4 tbsp. unsalted butter, cut into pieces
¼ teaspoon kosher salt
1 vanilla bean, split lengthwise, seeds scraped
½ tsp. vanilla extract
3 large egg yolks
½ cup sugar
¼ cup cornstarch
4-5 ripe bananas, peeled, sliced into ¼" rounds
Crust:
Heat oven to 350 degrees.
In a large bowl, whisk 2 cups of graham cracker crumbs, ⅓ cup sugar, ¼ tsp salt until well combined. Add ¼ cup mashed banana and stir until evenly distributed, Cook 4 tbsp butter in a small skillet over medium heat, swirling pan, until it foams, then browns, 5–8 minutes. Scrape butter into a bowl with reserved graham cracker mixture and stir until mixture is coated in browned butter. Pour mixture into a 9" pie plate, evenly pressing mixture into the bottom and up the sides of the plate with your fingertips or the bottom of a measuring cup.  Chill until firm, 30 minutes. Bake crust until golden brown, 12-15 minutes.  Allow to cool completely.
Custard:
Combine 1 ½ cups milk, 1 ½ cups cream, 4 tbsp butter and 1/4 tsp salt in a large saucepan. Add seeds from 1 vanilla bean and add pod. Bring to a simmer over medium heat, stirring occasionally, and cook until butter is melted and mixture is warm.
Meanwhile, whisk 3 egg yolks and ½ cup granulated sugar in a medium bowl until light and very pale, about 3 minutes. Add ¼ cup cornstarch and whisk until no dry spots remain. Whisking constantly, slowly add warm milk mixture. Scrape mixture back into saucepan and cook over medium-high heat, whisking constantly, until custard is thick and pudding-like in consistency and just beginning to boil, 5–7 minutes. Add ½ tsp vanilla extract and whisk to combine. Remove vanilla pod and transfer to a bowl.
Cover bowl with plastic wrap, pressing directly onto surface, and chill until cold, at least 2 hours.
Assembly:
Stir custard to loosen, if necessary. Using a small offset spatula, spread ¾ cup custard over bottom of prepared crust. Top entire surface with 1 layer sliced bananas, then 1 cup custard, covering bananas completely. Repeat layering with remaining bananas and remaining custard. Chill banana cream pie until filling is set and crust softens slightly, at least 8 hours and up to 1 day.
Do ahead:
Custard and crust can be made 1 day ahead.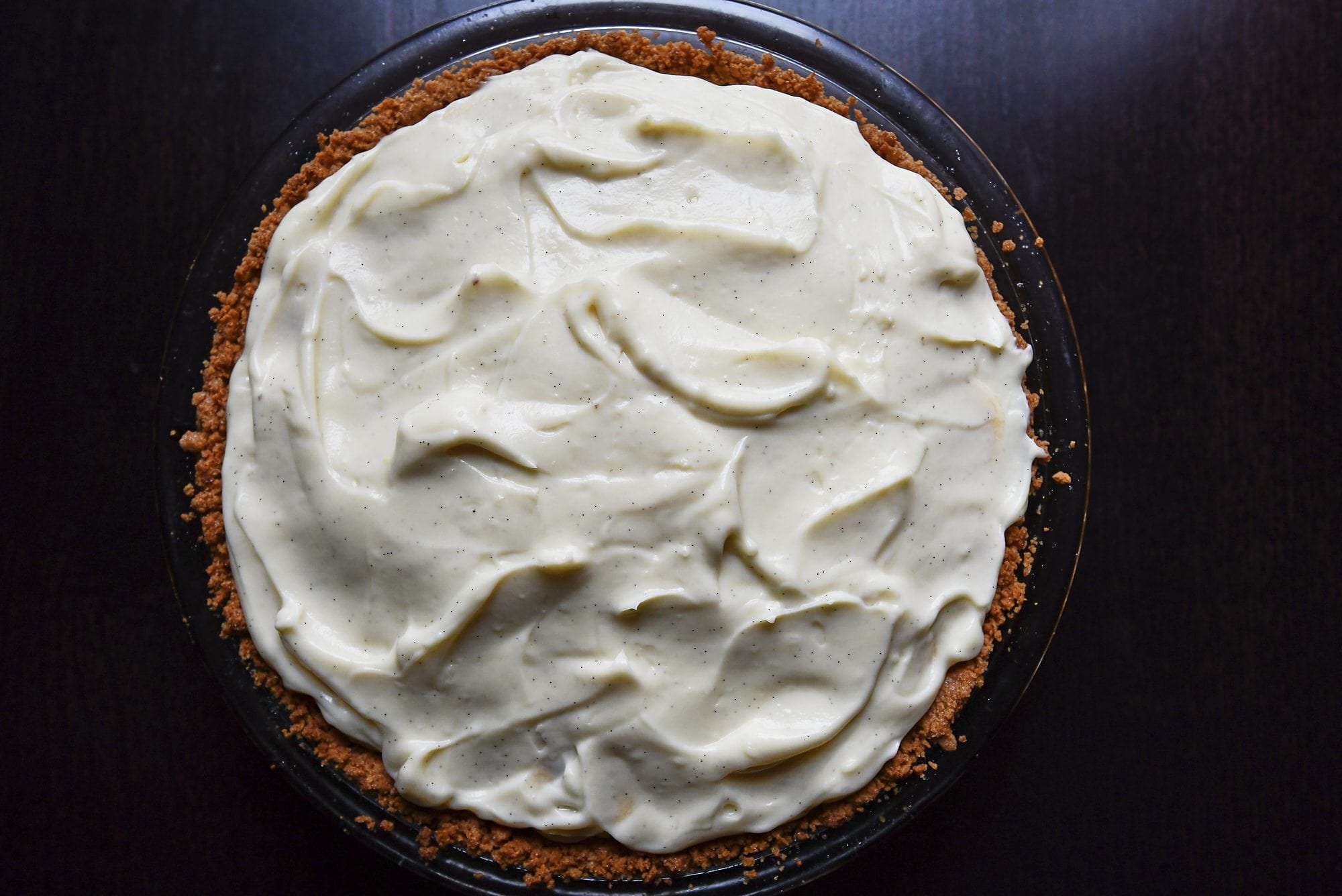 [instagram-feed imageres=full heightunit=250]