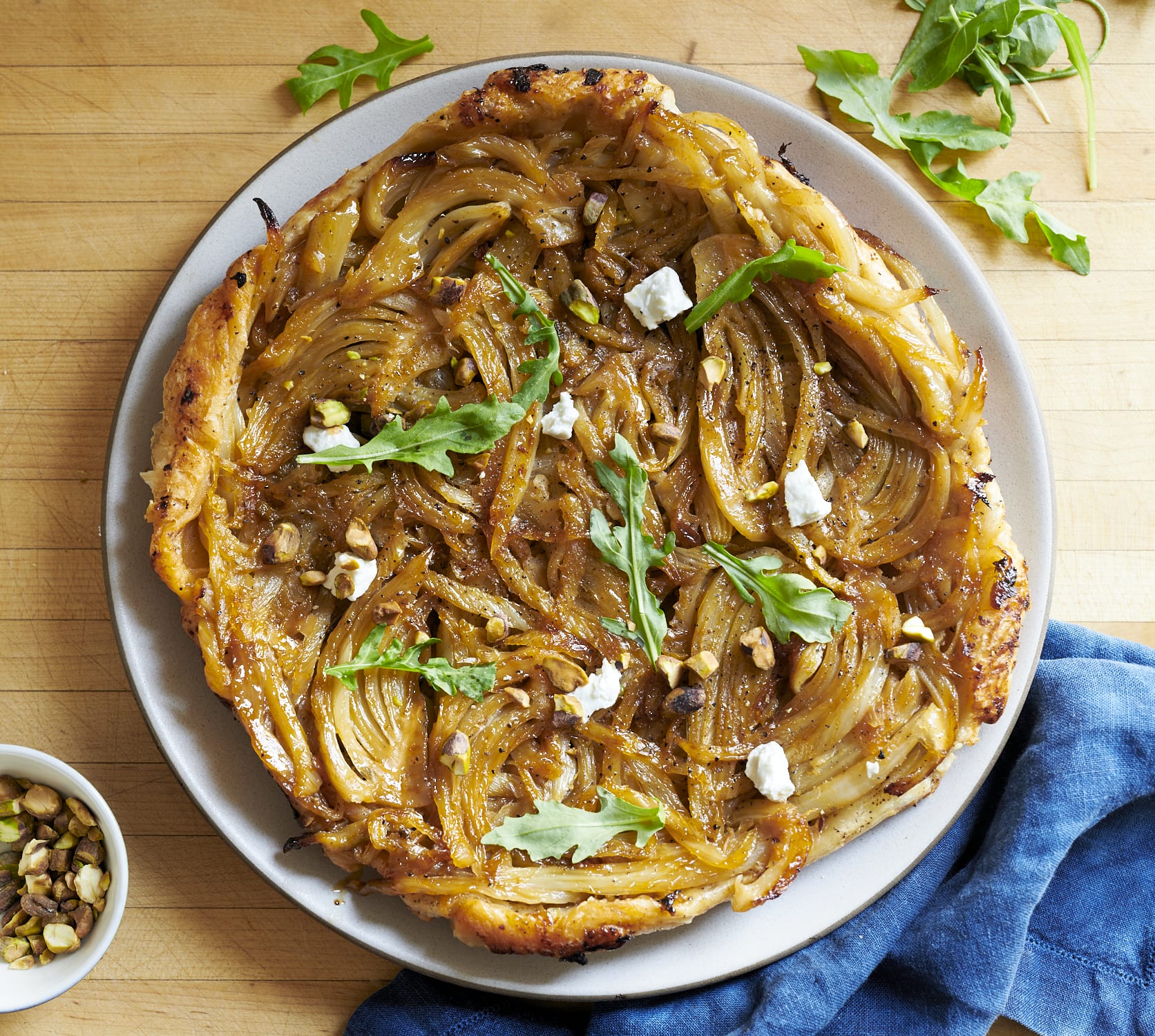 Savory with a hint of sweet on your table in under an hour. Crisp puff pastry topped with tender caramelized fennel and sweet onion.
¼ cup unsalted butter, divided
2 fennel bulbs, large woody stems removed, sliced thru core into ¼" wedges
½ large sweet onion, peeled, trimmed with core intact, thinly sliced
½ tsp. Kosher salt plus more
Fresh ground black pepper
¼ cup granulated sugar
1 tsp. fennel seeds, ground
¼ tsp. paprika
1- 14oz package puff pastry (Dufour preferred)
Lemon juice from half a lemon
Flakey salt
2 oz. goat cheese
1 cup baby arugula
¼ cup roasted pistachios, roughly chopped
Heat oven to 400 degrees. Combine sugar, ground fennel, paprika, ¼ tsp black pepper and ½ tsp of salt in a small bowl, reserve. Place 2 tbsp butter in large skillet over medium high. When melted, add sliced fennel, onion and a pinch of salt and cook gently tossing until fennel is wilted and translucent, 8-10 minutes.
Add garlic to the skillet, cook until fragrant, about 2 minutes. Gently move fennel mixture to one side of the pan. Add remaining butter and reserved sugar-spice mix to other side, stir to combine. Gently toss fennel in butter-spice mixture until fennel is evenly coated. Continue to cook, tossing gently, until fennel begins to caramelize all over, 18-20 minutes more.
Meanwhile, trim puff pastry so it fits inside of the skillet and set aside. Once fennel is beginning to caramelize remove from heat, evenly distribute fennel mixture in the pan. Place the trimmed puff pastry on top of the fennel, prick pastry with fork. Bake in oven until pastry is deep golden brown 30-35 minutes.
Let rest a few minutes then invert tarte onto a platter. Fennel should be deep golden brown.
Top with a squeeze of lemon juice, flakey salt, fresh ground black pepper, chunks of goat cheese, arugula and pistachio.
[instagram-feed imageres=full heightunit=250]