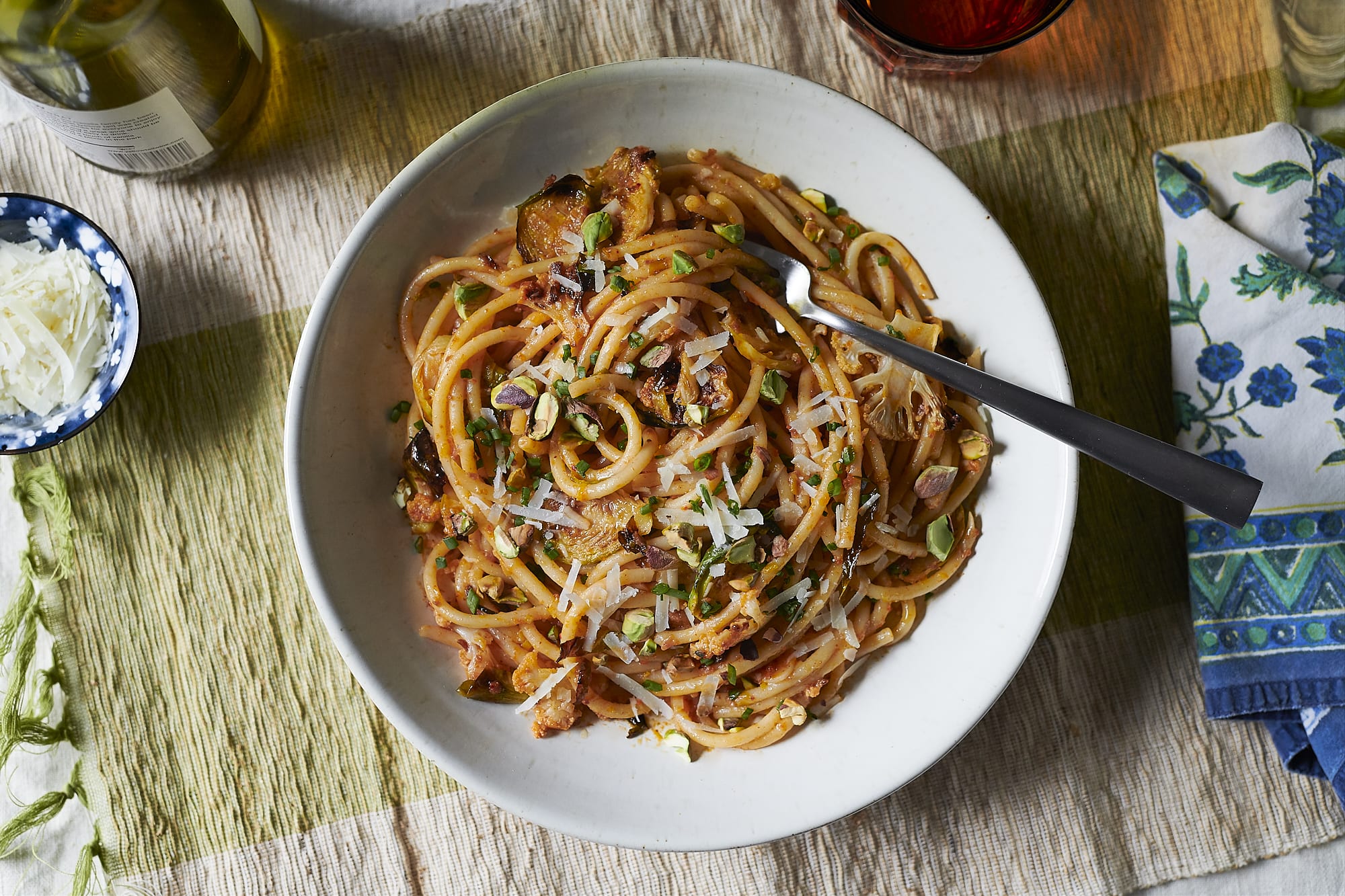 This dish features 'nduja. 'Nduja is a spreadable pork salami that's mixed with peppers and spices. This dish also has leeks, roasted cauliflower and brussels sprouts rounding out a hearty winter pasta.
Serves 4-6
8 oz. Brussels sprouts, trimmed and thinly sliced (about ¼" thick)
¼ cup extra virgin olive oil
Kosher salt
½ small cauliflower (about 8 oz.), florets removed and sliced (about ¼" thick)
2 leeks, thinly sliced
4 cloves garlic, thinly sliced
3 tbsp. white wine
4 oz of 'nduja ***
1 lb. Bucatini
1 cup Pecorino grated, plus more
Zest of half a lemon
2 tbsp. Finely chopped chives
¼ shelled pistachio
*** Note about 'nduja: I've tried a few different brands of 'nduja to find that they are not created equal. For this recipe I used the La Quercia brand that I purchased from Eataly. Other brands may taste or look differently.
Heat oven to 425 degrees.
Spread pistachios on a small sheet tray and toast until just lightly golden, 4 minutes. Let cool then roughly chop. Reserve.
Toss brussels sprouts with 1 tbsp olive oil and a pinch of salt and spread out on a rimmed sheet tray, trying to lay flat sides down as much as possible. Repeat with cauliflower. Roast both trays until edges are crisp and deep golden brown 25-30 minutes. Reserve.
Meanwhile, fill large stock pot with water and bring to boil to cook pasta. Cook bucatini, until just shy of al dente, according to package directions. (my bucatini took about 5 minutes). Drain reserving 1 cup of pasta water (you might not use it all).
Heat 2 tbsp of olive oil in a large skillet over medium heat. Add leeks with a pinch of salt and cook until just tender, about 4 minutes. Add sliced garlic with another pinch of salt to leeks and continue cooking until garlic has softened and leeks are very soft, 4 minutes more. Add white wine and cook until liquid has almost reduced, about 2 minutes. Add 'nduja, and cook until it has softened and spread and is evenly coating the leek mixture, about 2 more minutes. Using tongs, transfer noodles to skillet with 'nduja along with some pasta water, pecorino and lemon zest. Toss until noodles are coated with a glossy 'nduja sauce. Add reserved brussels sprouts and cauliflower and toss until evenly distributed, adding more pasta water if needed. Taste for seasoning and add more salt if needed. Serve pasta and top with more pecorino, chives and chopped pistachio.
[instagram-feed imageres=full heightunit=250]