This chili oil is inspired by a recent trip to ABC Cocina where they served it with shrimp. When I made if for my house, the oil did not last long. We eat it with shrimp, fish, chicken, on eggs, with rice, on pizza, etc. The possibilities are endless. Things like "why don't we always have chili oil in the house", were said. So now we always do. It just adds a little extra something-something to whatever you're eating.
I remove the seeds (only partially) from the chilis because my youngest daughter won't eat it if it's too spicy, adjust the seeds to the spice level you're comfortable with. Also if star anise isn't your thing, use a spice that you do like.
Makes 1 ½ cups
4 cloves garlic, crushed
3 star anise, divided
1 ½ cups neutral oil (such as sunflower, safflower or canola oil)
4 guajillo, seeds removed, roughly chopped
1 smoked serrano, seeds removed, roughly chopped
1 Chile de arbol, seeds removed,roughly chopped
Kosher salt
Toast the 2 star anise in small saucepan over medium- low heat until aromas are released, 2-3 minutes. Add oil and garlic cloves and bring to a bare simmer and cook until garlic is golden brown on all sides. Remove from heat, remove garlic cloves and reserve star anise. Add chiles (they will sizzle and deepen in color) and allow mixture to cool slightly. Transfer chili oil mixture to a blender. Blend ingredients until chiles are very finely chopped and oil has taken on a red hue. Return mixture to the saucepan, add reserved star anise, fresh star anise and let chili oil cool completely. Once cool, pour the mixture thru a fine mesh strainer into a small bowl, pressing chili mixture to extract as much oil as you can. Remove star anise from strainer and store it with the strained oil.
Store in an airtight container.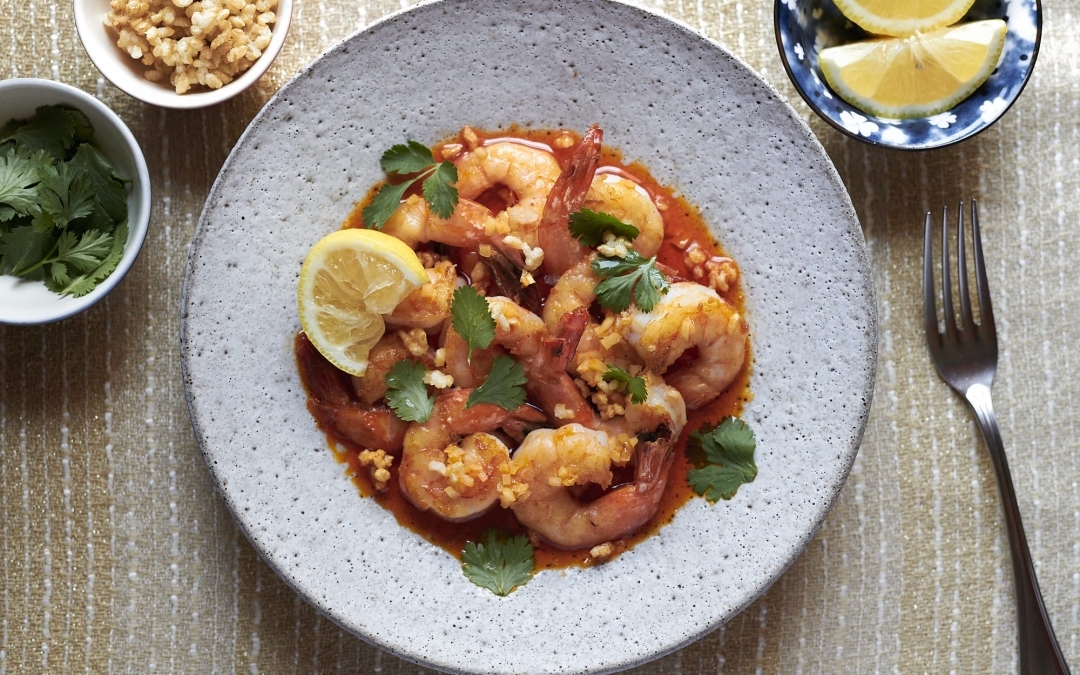 We ate a similar dish at ABC Cocina and knew that I had to recreate it for my daughters. If the other components are already made this dish comes together really fast. We eat these little shrimpies with our grain bowls, as a side dish or appetizer. I love to set out a big platter at gatherings and let people snack. Just increase the recipe proportions to your needs.
read more