1 ½ lbs. very ripe vine tomatoes, cored and roughly chopped
1 pint cherry or grape tomatoes, halved, quartered if large, divided
3 medium persian cucumber, 2 peeled, roughly chopped. 1 quartered lengthwise and sliced crosswise into ¼ inch pieces, divided
1 medium shallot, peeled and chopped
½ head young garlic bulb or 1 small garlic cloves, finely grated
Sourdough or country-style bread, sliced, divided
Kosher salt
2 tbsp sherry vinegar, plus more
3 tbsp extra virgin olive oil, plus more
¼ tsp. Smoked paprika
Chives and flakey sea salt for garnish
Combine tomatoes, ¾ of the cherry tomatoes, 2 chopped cucumbers, shallot, garlic and a pinch of salt in a large bowl. Using an immersion blender, purée mixture until very smooth. (Alternatively, you can also use a regular blender, add contents to blender and purée).
Take one slice of bread (about 4") and soak in water until soggy, then squeeze all the excess water out of bread and add it to tomato mixture. Continue to blend mixture until bread is fully incorporated and completely smooth. Let mixture chill at least one hour (up to overnight) to let flavors meld.
Heat oven to broil. While the oven heats, add 2 tbsp. vinegar, 3 tbsp. olive oil, and smoked paprika to gazpacho mixture and blend. Season with salt to taste and adjust seasoning with olive oil and vinegar blending until everything is incorporated and very smooth.
Brush bread with olive oil and place on a rimmed baking sheet. Lightly season with salt. Toast until golden brown, 2-4 minutes. (Alternatively, grill it up!).
To serve, ladle gazpacho into a bowl, top with olive oil, reserved cherry tomatoes, cucumbers, chives and flakey sea salt. Serve with toasted bread.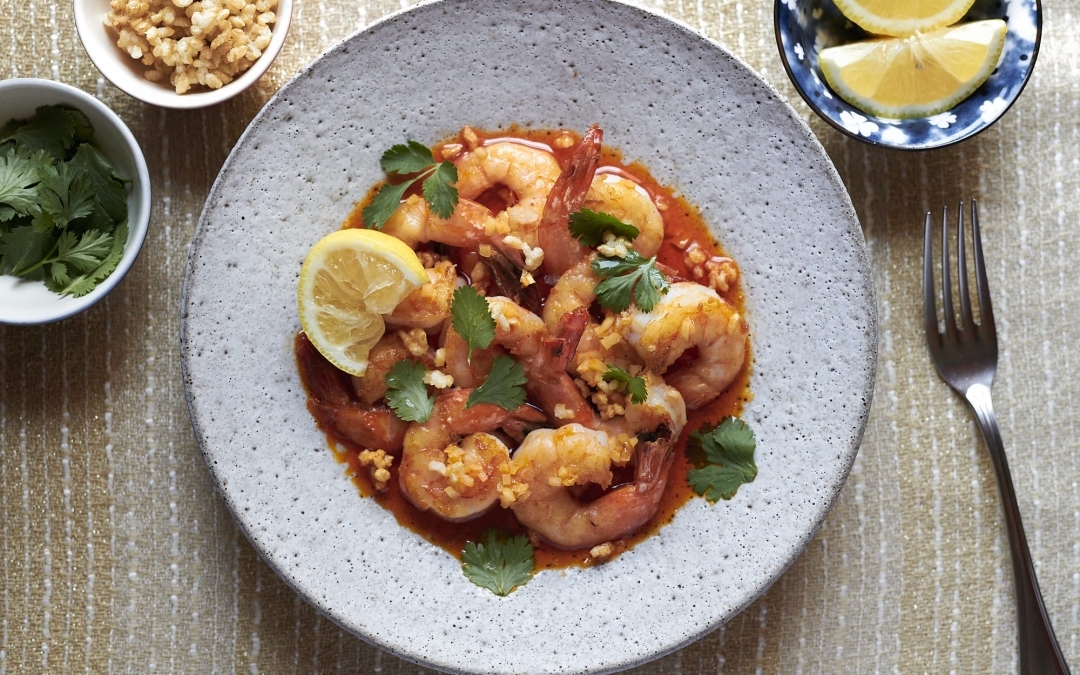 We ate a similar dish at ABC Cocina and knew that I had to recreate it for my daughters. If the other components are already made this dish comes together really fast. We eat these little shrimpies with our grain bowls, as a side dish or appetizer. I love to set out a big platter at gatherings and let people snack. Just increase the recipe proportions to your needs.
read more